DO I HAVE TO MAKE AN APPOINTMENT OR LET SOMEONE KNOW THAT I AM COMING?
No. You can simply attend the meeting.
WHO CAN COME TO A MEETING?
Everyone!  There are many different types of people who come to PFLAG meetings.  All are welcome. You always have a home in PFLAG.
WHY DO PEOPLE COME TO A MEETING?
Each of us comes for a different reason.
Lesbian, gay, bisexual, transgender and questioning (LGBTQ) people come to a PFLAG meeting
… to learn from other family members and allies how they can tell the people in their own lives that they are LGBTQ.
… to learn from other family members and allies how they can tell the people in their own lives that they are LGBTQ.
… to help other people adjust to the news that someone they know is LGBTQ.
… to create a family of choice to replace the family they lost when they came out.
Parents and family members come to get support from other parents and family members who have been through similar experiences.
Spouses of LGBTQ persons come because they want to support their spouses and their families.
Transgender people and their parents come because they want to get support and share about what it is like to have a family member transition to another gender.
Allies and friends come to meetings:
… to support a friend who is LGBTQ
… to learn how to handle LGBTQ issues that face them in today's society, and … how to stand up for the rights of LGBTQ people
… to connect with other folks in their community who care about and are working for equal rights for LGBTQ folks
WHO ARE AT THESE MEETINGS?
The people who are at PFLAG meetings are everyday people. We come from various backgrounds, occupations, and age groups.  Some of us have gone through similar experiences. Sometimes we are still struggling with being a parent or family member of a loved one who is LGBTQ. Some of us come to PFLAG just to share stories and enjoy the company of other PFLAG members.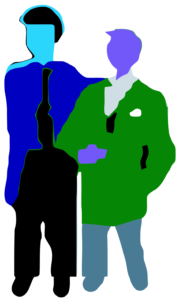 Many of us have had to struggle with being LGBTQ or having an LGBTQ child, and being in a church or temple that rejects LGBTQ people. You are welcome at PFLAG. We will support you in your struggle.
DO I NEED A REASON TO ATTEND A PFLAG MEETING?
No. You do not have to have a pressing crisis or be associated with anyone in the gay community. You can simply come. Often the stories that we share prompt others to share, and our stories can help each other.
WHAT USUALLY HAPPENS AT MEETINGS?
PFLAG meetings can vary from chapter to chapter. They usually start off with introductions about who we are, if we have an LGBTQ loved one, and if we are LGBTQ or not. We ask that whatever is shared be kept in confidence. Then we share announcements of various events that are happening about LGBTQ issues. We usually have a guest speaker talk about one of the myriad of LGBTQ topics. We have time for refreshments and socializing, and then we break into small groups to talk about any LGBTQ personal news or stories we might have.
I AM REALLY NOT COMFORTABLE WITH LARGE GROUPS. IS THERE ANY WAY I CAN MEET PFLAG MEMBERS WITHOUT HAVING TO GO TO A MEETING?
We understand that it can be difficult to be the newcomer and to come to a meeting for the first time. We've all been through that experience. Some chapters will offer you a private session with an experienced PFLAG member so you can talk about your experience with someone who can share your story.
If you wish, you can request an individual "coffee and conversation."  You can meet and talk with an experienced PFLAG member over your favorite cup of coffee.  We would be happy to arrange this for you.
Some people bring their friends or someone else they trust to PFLAG meetings. We welcome anyone who walks through the PFLAG door.
WHAT DO PEOPLE TALK ABOUT AT MEETINGS?
PFLAG members talk about all kinds of things. Some share the news that their LGBTQ child or other family member has come out to other members of the family. We all celebrate that news. Some members share their concerns about family members, friends or co-workers who are not accepting of an LGBTQ person. Some members talk about how difficult it is to hear gay jokes when they have a loved one who is LGBTQ. Some members talk about a news story or a political event that was unfavorable to gays.  We also share information to educate ourselves about current LGBTQ events.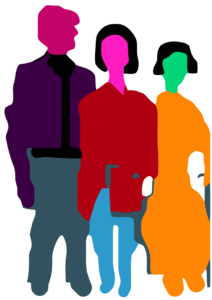 I HAVE HEARD THAT PFLAG MEETINGS ONLY CONSIST OF MOTHERS WHO SOB ABOUT THEIR CHILDREN BEING GAY. IS THIS TRUE?
No. We take time to celebrate our loved ones.  We talk, we enjoy each other's company, and we have great refreshments. We do make sure we take time to support those who are struggling.
HOW OFTEN DO PEOPLE COME TO PFLAG MEETINGS?
People come as often as they want. You are under no obligation to the PFLAG chapter. We hope that you find the PFLAG chapter a welcoming and interesting community.
People often come back after they have resolved their initial anxieties because they want to give support to others who are coming to a PFLAG meeting for the first time.
We try to follow up. If a PFLAG meeting is not what you expected, let us know. There are lots of different ways to hold the meetings, and people can have many different experiences.  If you didn't feel you got what you needed from a PFLAG meeting, we encourage you to talk with a PFLAG board member to make sure that we hear your story and your concerns.
DO I HAVE TO JOIN PFLAG AND PAY DUES TO ATTEND?
You don't have to be a dues-paying member, but we hope you will consider supporting PFLAG by joining the chapter. Membership supports the chapter's expenses and helps cover the cost of our projects.  You can also support the chapter by making donations, volunteering your time, or by attending fundraising events.
---
This FAQ is based on an original document shared by Peter Ji, Ph.D. and PFLAG Chicago, IL ~ thank you! It was edited for PFLAG-Olympia by Julianne Rivers, Alec Clayton, and Gabi Clayton.