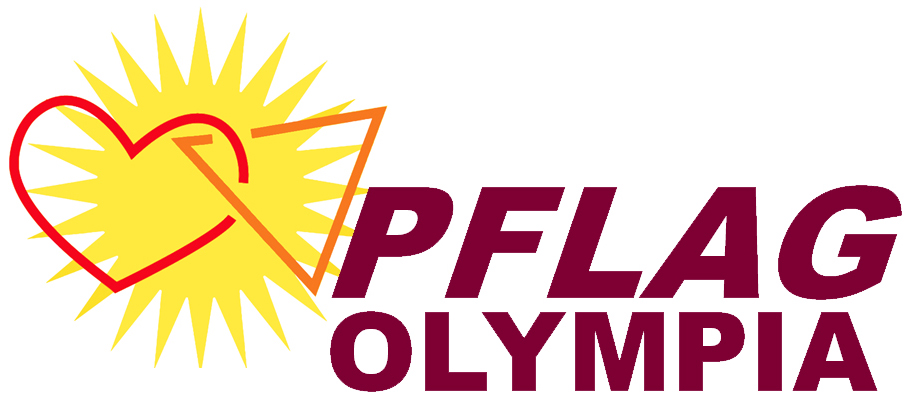 Our Mission -- PFLAG promotes the health and well-being of gay, lesbian, bisexual and transgendered persons, their families and friends through:
Support to cope with an adverse society,
Education to enlighten an ill-informed public, and
Advocacy to end discrimination and to secure equal civil rights.
PFLAG provides opportunity for dialogue about sexual orientation and gender identity, and acts to create a society that is healthy and respectful of human diversity.
Our Vision -- We celebrate diversity and envision a society that embraces everyone, including those of diverse sexual orientations and gender identities. Only with respect, dignity and equality for all will we reach our full potential as human beings, individually and collectively. PFLAG welcomes the participation and support of all who share in, and hope to realize this vision.
We are a community of and welcome LGBTIQQTSA* persons of all ages. LGBTIQQTSA* = lesbian, gay, bisexual, transgender, intersex, queer, questioning, two spirit, and ally.
Out of the Darkness

PFLAG-Olympia will be joining with thousands of people nationwide to walk in the OUT OF THE DARKNESS Suicide Prevention Walk benefiting the American Foundation for Suicide Prevention (AFSP) Saturday, Sept. 27 at Marathon Park, Olympia. Registration at 8 a.m.

The American Foundation for Suicide Prevention is at the forefront of research, education and prevention initiatives designed to reduce loss of life from suicide. With more than 38,000 lives lost each year in the U.S. and over one million worldwide, the importance of AFSP's mission has never been greater, nor our work more urgent.

Join our team and walk for suicide prevention. We will be tabling at the event. For more information copy this url and paste it in your browser: http://afsp.donordrive.com/index.cfm?fuseaction=donorDrive.team&teamID=70215 - If you click on the link it brings up an error notice, so don't click on it, copy and paste.