PFLAG-Olympia is the local chapter of the nation's foremost family-based organization is committed to the civil rights of gays, lesbians, bisexual and transgender persons.
PFLAG-Olympia usually meets on the second Sunday each month from 2-4:30PM. However, our meetings are canceled until further notice due to the COVID-19 pandemic.
For the safety of all, we are using Zoom to meet online. The time will be reduced to one hour.
2:00-3:00 PM Pacific Time
Click here (encrypted password embedded) 
or
Join Zoom Meeting: https://us02web.zoom.us/j/87504795887 
Meeting ID: 875 0479 5887
And contact us (send to General Information or President) for the password.
You can either choose to connect with your web browser or download the Zoom app for cell phones and computers. When you click a link to join a Zoom meeting the first time, you will be offered the opportunity to download the app. This is not necessary. You can choose to do that or to connect via a browser.
If you do not have access with a computer or cell phone, there is also an option to call in on a phone line, though without video.
Calling in on a phone line: Phone: (253) 215-8782 or (301) 715-8592. Calling in international?  Find your local number: https://us02web.zoom.us/u/kFIXrnl67
If you are using your browser, you may need to approve Zoom to use your camera in the lower left of your screen so we can see you in video. Here are some more directions on how to use Zoom to join a meeting: https://support.zoom.us/hc/en-us/articles/201362193-Joining-a-Meeting

When we do meet in person, it is at:
First United Methodist Church 1224 Legion Way SE, Olympia Enter on 5th Ave. side.
Our annual picnic is held every August in lieu of our regular monthly meeting and program. It is a potluck in a local park. We start an hour earlier than usual so from 1-4PM.
Our Mission — PFLAG promotes the health and well-being of gay, lesbian, bisexual and transgender persons, their families and friends through:
Support to cope with an adverse society,
Education to enlighten an ill-informed public, and
Advocacy to end discrimination and to secure equal civil rights.
Our Priorities —
Proud People: to make sure that all people who are lesbian, gay, bisexual, transgender, and queer are not only valued by society, but take pride in and value themselves.
Loving Families: supporting thousands of families across the country and around the world.
Safe Communities: People who are LGBTQ and their families deserve to be safe and secure, no matter where they live, work, study, pray or play. Through our mission of support, education, and advocacy, PFLAG works to make sure that all communities provide this type of security, and have the resources needed to help those communities thrive.
Diverse and Inclusive World: where difference is celebrated, and all people are valued inclusive of their sexual orientation, gender identity, and gender expression.

PFLAG is the extended family of the LGBTQ community. We're made up of LGBTQ individuals, family members and allies. Because together, we're stronger.
PFLAG provides opportunity for dialogue about sexual orientation and gender identity, and acts to create a society that is healthy and respectful of human diversity.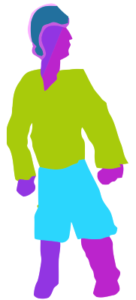 Our Vision — We celebrate diversity and envision a society that embraces everyone, including those of diverse sexual orientations and gender identities. Only with respect, dignity and equality for all will we reach our full potential as human beings, individually and collectively. PFLAG welcomes the participation and support of all who share in, and hope to realize this vision.
We are a community of and welcome LGBTIQQTSA* persons of all ages. LGBTIQQTSA* = lesbian, gay, bisexual, transgender, intersex, queer, questioning, two-spirit, and ally.
PFLAG-Olympia welcomes all allies – straight and GLBTQ.
A brief history of PFLAG-Olympia (pdf file)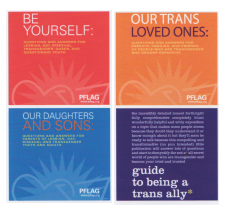 Download great free publications from PFLAG National here.