November program: "Transfigurations—Transgressing Gender in the Bible"
November 12, 2017 @ 2:00 PM

-

4:30 PM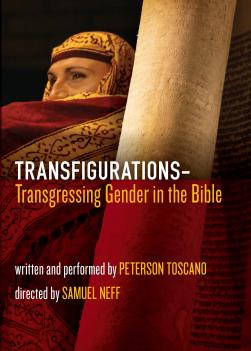 We are showing the 2017 film, Transfigurations—Transgressing Gender in the Bible – written and performed by Peterson Toscano; directed by Samuel Neff – as the November monthly meeting's program.
Peterson Toscano has shaken up Bible academics and received high praise for his ground-breaking, genre-bending, gender blending Bible scholarship. By unearthing the stories of gender-variant people in the Hebrew and Christian scriptures, Toscano's one-person play deepens well-known (and lesser-known) Bible stories and presents an array of Bible characters with an array of genders.
Official Trailer Transfigurations-Transgressing Gender in the Bible from Peterson Thomas Toscano on Vimeo.
"Transfigurations accomplishes several fairly extraordinary things. It speaks into the fraught intersection of religion and LGBTQ issues, and, without pretending neutrality, welcomes audience members with widely divergent perspectives. It is accessible to people who have never cracked open a Bible, while offering meaningful insights to biblical scholars and other experts. It is intellectually rigorous but grounded in emotion, spirit, and body."
~ Kody Gabriel Hersh, Friends Journal
---
"A brilliant theologian and playwright, the work of Peterson Toscano not only shifted my own connection to biblical texts, but helped me reimagine how working within communities of faith might be possible. A necessary artist to know for LGBTQ activists, environmentalists, faith leaders and humans everywhere."
~ J Mase III, Black/trans/queer poet
---
"As a Jewish Studies scholar, educator, and activist for TBLG inclusion in Jewish communities, it was a thrill to see confident transgender characters from the Hebrew scriptures given flesh via the performance activism of Peterson Toscano –and, more importantly, to recognize through his performance that those characters fulfilled social roles in Jewish communities as gender variant folk. Bring Transfigurations to your shul and create an opportunity to dialogue about present-day transgender people in Jewish communities."
~ Noach Dzmura, Editor, Balancing on the Mechitza: Transgender in Jewish Community, and Director, Jewish Transitions
---
"Toscano's excellent theater chops morph characters and identities in that world-changing way only performance allows. His writing and philosophy educate and loosen the tightest knots of queer and religious entanglements. But it's his heart, which his engaging presence radiates, that will pull you in, warm you up, and leave you pleading for an encore."
~ Scott Turner Scofield, Transgender actor, artist, solo performer & diversity speaker.
---
"Peterson Toscano's work combines astute readings of the Bible with great story-telling and comedy. He offers interpretations of the texts and insights that even experienced biblical scholars haven't seen before. When portrayed by Toscano, Bible stories and characters come to life with wit, sympathy, and humor."
~ Dale Martin, PhD Woolsey Professor of Religious Studies, Yale University. Author of Sex and the Single Savior
More about: Transfigurations, the movie.
More about: Peterson Toscano: "A Quirky Queer Quaker performance artist and scholar – Playfully exploring the serious worlds of gender, religion, and Climate Change."
Order the film from Barclay Press.